- Due to an increased amount of spam, new users must request an account, confirm their email address and be approved before creating or editing pages.
Richard Thomas
From The Literary Underground Wiki
Richard Thomas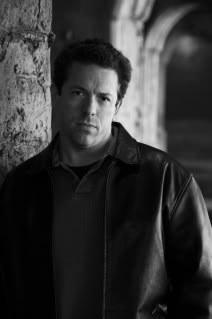 Richard Thomas c. 2010
Birth Date November 21, 1967
Birthplace St. Louis, Missouri, United States
Occupation Novelist, short story writer, art director
Education Bradley University (BS); Murray State University (MFA)
Genre Neo-noir, horror, transgressive, speculative, magical realism
Influences Stephen King, Will Christopher Baer, Stephen Graham Jones, Craig Clevenger, Philip K. Dick, Chuck Palahniuk
Website
http://www.wwhatdoesnotkillme.com/

Richard Thomas (born November 21, 1967) is an American author. His focus is on neo-noir fiction, typically touching on the darker aspects of life, including elements of violence, mental instability, breaks in reality, and tragedies. His work is rich in setting and sensory details, and often has a sexual element to it.
[edit]
Biography
Richard was born in St. Louis, Missouri. He grew up in Webster Groves, and went to Webster Groves High School. He pursued his undergraduate studies, and obtained a Bachelor of Science at Bradley University, in Peoria, Illinois. He completed his MFA at Murray State University in 2012, where he studied under Pulitzer nominated professor, Dale Ray Phillips. He currently lives in Chicago, Illinois, and he is represented by Paula Munier at Talcott Notch. He is also the Editor-in-Chief at Dark House Press.
[edit]
Influences
Growing up he was heavily influenced by Stephen King. He also read work by Ray Bradbury, Robert Heinlein, Peter Straub and Dean Koontz. Later in life, around the time that Fight Club the movie came out, he discovered Chuck Palahniuk, which led him to the Velvet trio of Will Christopher Baer, Craig Clevenger and Stephen Graham Jones, all authors that deal with the transgressive, and many of whom have called their work "neo-noir". Other influences include Philip K. Dick, China Miéville and Clive Barker as well as literary authors like Mary Gaitskill, Denis Johnson, Cormac McCarthy and Flannery O'Connor.
[edit]
Published Novels and Short Story Collections
[edit]
Published Short Stories
2014

2013

2012

2011

2010

2009

2008
[edit]
Editing
[edit]
Awards and Contests
[edit]
Interviews
[edit]
Podcasts
[edit]
External links