- Due to an increased amount of spam, new users must request an account, confirm their email address and be approved before creating or editing pages.
P. H. Madore
From The Literary Underground Wiki
P. H. Madore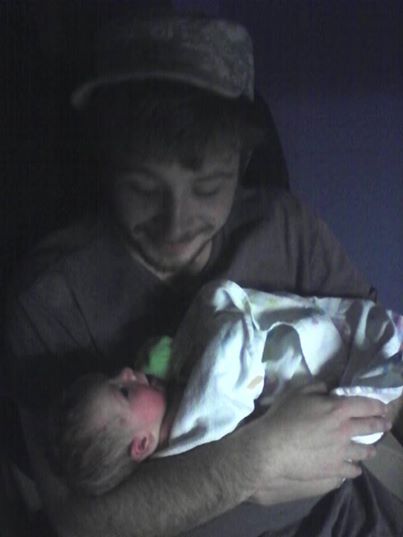 February, 2014
Pseudonym numerous unknown
Birth Name Paul Henry Madore III
Birth Date October 13, 1987
Birthplace Providence, Rhode Island
Resting Place No Rest for the Wicked
Occupation Dishwasher, Soldier, Transcriptionist
Language English
Nationality American
Ethnicity Not White
Citizenship American
Education High School
Genre Fiction, Poetry, Non-Fiction
Movement
Free Thought
Notable Works Hawthorne Lane (2014), Da Vinci Died Before Cigarettes (2009, mud luscious), Here Lies an American Dreamer (2008, nonpress), The History of the World (2006, One-Legged Cow Press), SH!T: collected tales (2005, One-Legged Cow Press)
Spouse
Breanna Nicole Madore
Partner
Influences Matt Berninger, Dave Morrison, Your Mother, Jack Kerouac, Tim O'Brien, Stephen King, Allen Ginsberg, Knut Hamsun, Bob Dylan, Greg Graffin, Spencer Dew, Colum McCann, Jackie Corley, D. Harlan Wilson, Ellen Parker
Website
[1]
[2]
P. H. Madore (b. 13 Oct. 1987) is an American-born writer, publisher, veteran, editor, hardware hacker, and software engineer living in the US territory of Arkansas. He is the author of the books Da Vinci Died Before Cigarettes (2009, mud luscious), Here Lies an American Dreamer (2008, nonpress), The History of the World (2006, One-Legged Cow Press), SH!T: collected tales (2005, One-Legged Cow Press), Yearning, Corners, Utopia, Communication, Reason, and Hate (2010, self-published), and Hawthorne Lane (2014).
[edit]
Biography
[edit]
Early Life
Madore was born in Rhode Island to a sailor and a country girl in 1987.
He grew up in South Carolina, Maine, and Massachusetts.
[edit]
Education
Madore graduated middle of his class in June, 2005, from B. M. C. Durfee High School in Fall River, Massachusetts. Madore's application to the University of Maryland at College Park was rejected with wording which could only be surmised as to be referencing his then-minor criminal record. He subsequently applied to the marketing program at the plebeian University of Baltimore and was accepted for the fall semester. In 2013, he briefly attended an automotive program at IntelliTec College in Grand Junction, Colorado. In late summer 2014, he enrolled at Colorado Technical University to pursue a Bachelor's of Science in Information Technology.
[edit]
Adult Life
Madore's first apartment was in Athens, Georgia, which he signed for in November, 2005. He was officially banned from the city the following year in November, 2006, for a period of 12 months. His initial reason for going to Athens was essentially on a dare from then-dispatch litareview (Dispatch Literary Journal) poetry editor M. Blair Spiva.
From there he spent a month or two homelessly, and wound up in Baltimore, Maryland, where he for years considered home, and where he lived for a period of one year, being conditionally kicked out by a judge in September, 2007, due to some unfounded charges made by his roommate at the time.
In January, 2008, Madore enlisted in the active army as an infantryman. In January, 2009, he deployed to Iraq. In March, 2011, he was medically, honorably discharged from active service with a diagnosis of Post-Traumatic Stress Disorder.
In 2011, Madore busied himself with the transcription firm Mighty Madore Transcription Services. He is reported to have made a small fortune.
In August, 2011, Madore was robbed blind by one Daniel E. of 1434 Dellwood Ave in Hampden, Baltimore, MD.
In November, 2011, Madore dropped out of University of Baltimore.
In February, 2012, Madore left his mother's home in Maine in a white 2001 Chevrolet Impala for California.
By August, 2012 Madore had abandoned his car in Green River Junction, Utah, due to a problem he could not solve with the money at hand.
More things happened. Madore worked in the marijuana industry of Northern California.
Madore bused from San Francisco to LA, then to Las Vegas, then hitch-hiked to Denver, then the same to Maryland, then to Florida, and then to Texas, where he met his wife, the blogger Breanna Madore, at the 2013 Texas Regional Rainbow Gathering. The two headed for Iowa to face problems together. Clarke A. Davidson of Des Moines, Iowa then made it his business to stalk and harass the newlyweds, leading Madore to, at one point in Mt. Shasta, California, come to blows with Davidson, at Davidson's insistence. In the charade, Madore lost his wallet, and as a result of no one returning it to him, his wife had a very miserable time in California, and until the pair made it eastward across the desert, neither was sure if they'd ever been that hungry before or not.
In August, 2013, the young couple decided to make their home in Grand Junction, Colorado, where Madore could go to school on the post-9/11 GI Bill. In May 2014, he fully withdrew from IntelliTec College's Automotives program and dedicated himself to things that are "more profitable."
Paul Henry Madore IV was born February 6th, 2014.
Madore and his wife were given notice of pending eviction of July, 17th, 2014, by Cindy Dickey of High Desert Realty in Grand Junction, Colorado. The notice was called a Writ of Repossession. The reason was not for non-payment or anything of that nature, but due to Madore's then-pending criminal case 2014CR729.
Since then, Madore and his wife have re-located to Arkansas, and the case has been resolved with a 24-month deferred judgement.
Until August, 2015, Madore was a top contributor at a leading cryptocurrency news website, CCN.la, as well as its associate, Hacked.com. He came back to the site(s) for the majority of 2017.
As of April, 2016, Madore works for Vermont Secure Computing Consultancy. Currently his primary pursuit is as Managing Editor at CryptoBriefing.
[edit]
Personal Life
Madore's second son Arthur James Madore was born in August, 2015. His daughter Magnolia was born March 28th, 2016.
[edit]
Writer
Madore's first publication was with Misanthropists Anonymous in July, 2005. His second was with Girls with Insurance in October, 2005. A complete list is available here.
In the fall of 2017, two important career shifts were realized in Madore's professional writing career. First, he founded a weekly journal of his own called P. H. Madore's Weekly ICO Rundown and Review. Second, after doing four issues of this while still maintaining his duties at Hacked.com, where had recently been made a full-time Initial Coin Offering analyst, Madore was summarily fired on a Saturday morning via e-mail. Subsequently, Madore was brought on board a start-up called CryptoBriefing.com as Managing Editor, and currently works there.
He maintains a Twitter presence mostly dedicated to his current pursuits.
[edit]
Publisher
Madore is the founder and, throughout its existence, sole financial and material-support entity behind disproductions. He founded his first literary journal in June, 2005, then called Dispatch Literary Journal. To date he has owned, or been associated with, more than ten publications.
[edit]
Editor
Madore's capacities as an editor have scaled back in recent years. As of this writing, October, 2017, he is merely Managing Editor for CryptoBriefing.com.