- Due to an increased amount of spam, new users must request an account, confirm their email address and be approved before creating or editing pages.
Allen Ginsberg
From The Literary Underground Wiki
Allen Ginsberg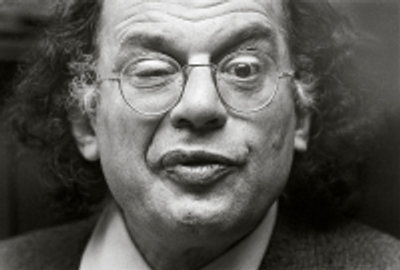 Irwin Allen Ginsberg
Birth Date June 3, 1926
Birthplace Newark, Jersey
Death Date April 6, 1997
Death Place New York City, New York
Language English
Citizenship American
Genre Poetry
Irwin Allen Ginsberg (June 3, 1926 – April 5, 1997) was an American poet and one of the leading figures of the Beat Generation in the 1950s. Ginsberg is best known for his epic poem "Howl", in which he celebrated his fellow "angel-headed hipsters" and harshly denounced what he saw as the destructive forces of capitalism and conformity in the United States. This poem is one of the classic poems of the Beat Generation. The poem, which was dedicated to writer Carl Solomon, opens:
"I saw the best minds of my generation destroyed by madness, starving hysterical naked, dragging themselves through the negro streets at dawn looking for an angry fix..."
In October 1955, Ginsberg and five other unknown poets gave a free reading at an experimental art gallery in San Francisco. Ginsberg's "Howl" electrified the audience. According to fellow poet Michael McClure, it was clear "that a barrier had been broken, that a human voice and body had been hurled against the harsh wall of America and its supporting armies and navies and academies and institutions and ownership systems and power support bases. In 1957, "Howl" attracted widespread publicity when it became the subject of an obscenity trial in which a San Francisco prosecutor argued it contained "filthy, vulgar, obscene, and disgusting language." The poem seemed especially outrageous in 1950s America because it depicted both heterosexual and homosexual sex at a time when Sodomy laws in the United States made homosexual acts a crime in every U.S. state. "Howl" reflected Ginsberg's own homosexuality and his relationships with a number of men, including Peter Orlovsky, his lifelong partner. Judge Clayton W. Horn ruled that "Howl" was not obscene, adding, "Would there be any freedom of press or speech if one must reduce his vocabulary to vapid innocuous euphemisms?"
Ginsberg was a practicing Buddhist who studied Eastern religious disciplines extensively. One of his most influential teachers was the Tibetan Buddhist, the Venerable Chögyam Trungpa, founder of the Naropa Institute, now Naropa University at Boulder, Colorado. At Trungpa's urging, Ginsberg and poet Anne Waldman started a poetry school there in 1974 which they called the "Jack Kerouac School of Disembodied Poetics". In spite of his attraction to Eastern religions, the journalist Jane Kramer argues that Ginsberg, like Whitman, adhered to an "American brand of mysticism" that was, in her words, "rooted in humanism and in a romantic and visionary ideal of harmony among men." He lived modestly, buying his clothing in second-hand stores and residing in downscale apartments in New York's East Village. Ginsberg's political activism was consistent with his religious beliefs. He took part in decades of non-violent political protest against everything from the Vietnam War to the War on Drugs. The literary critic Helen Vendler described Ginsberg as "tirelessly persistent in protesting censorship, imperial politics, and persecution of the powerless." His achievements as a writer as well as his notoriety as an activist gained him honors from established institutions. For example, his collection The Fall of America shared the annual U.S. National Book Award for Poetry in 1974. Other honors included the National Arts Club gold medal and his induction into the American Academy of Arts and Letters, both in 1979. Ginsberg was a Pulitzer Prize finalist in 1995 for his book Cosmopolitan Greetings: Poems 1986–1992.
[edit]
Biography
[edit]
Early life and family
Ginsberg was born into a Jewish family in Newark, New Jersey, and grew up in nearby Paterson.
As a young teenager, Ginsberg began to write letters to The New York Times about political issues, such as World War II and workers' rights. While in high school, Ginsberg began reading Walt Whitman, inspired by his teacher's passionate reading.
In 1943, Ginsberg graduated from Eastside High School (Paterson, New Jersey) and briefly attended Montclair State College before entering Columbia University on a scholarship from the Young Men's Hebrew Association of Paterson. In 1945, he joined the Merchant Marine to earn money to continue his education at Columbia. While at Columbia, Ginsberg contributed to the Columbia Review literary journal, the Jester humor magazine, won the Woodberry Poetry Prize and served as president of the Philolexian Society, the campus literary and debate group.
[edit]
New York Beats
In Ginsberg's freshman year at Columbia he met fellow undergraduate Lucien Carr, who introduced him to a number of future Beat writers, including Jack Kerouac, William S. Burroughs, and John Clellon Holmes. They bonded because they saw in one another an excitement about the potential of American youth. Ginsberg and Carr talked excitedly about a "New Vision" (a phrase adapted from Arthur Rimbaud) for literature and America. Carr also introduced Ginsberg to Neal Cassady, for whom Ginsberg had a long infatuation. In the first chapter of his 1957 novel On the Road Kerouac described the meeting between Ginsberg and Cassady. Kerouac saw them as the dark (Ginsberg) and light (Cassady) side of their "New Vision", a perception stemming partly from Ginsberg's association with Communism, of which Kerouac had become increasingly distrustful. Though Ginsberg was never a member of the Communist Party, Kerouac named him "Carlo Marx" in On the Road. This was a source of strain in their relationship.
[edit]
San Francisco Renaissance
In San Francisco, Ginsberg met members of the San Francisco Renaissance and other poets who would later be associated with the Beat Generation in a broader sense. Ginsberg's mentor William Carlos Williams wrote an introductory letter to San Francisco Renaissance figurehead Kenneth Rexroth, who then introduced Ginsberg into the San Francisco poetry scene. There, Ginsberg also met three budding poets and Zen enthusiasts who were friends at Reed College: Gary Snyder, Philip Whalen, and Lew Welch. In 1959, along with poets John Kelly, Bob Kaufman, A. D. Winans, and William Margolis, Ginsberg was one of the founders of the Beatitude poetry magazine.
[edit]
To Paris and the "Beat Hotel"
In 1957, Ginsberg surprised the literary world by abandoning San Francisco. After a spell in Morocco, he and Peter Orlovsky joined Gregory Corso in Paris. Corso introduced them to a shabby lodging house above a bar at 9 rue Gît-le-Coeur that was to become known as the Beat Hotel. They were soon joined by Burroughs and others. It was a productive, creative time for all of them. There, Ginsberg finished his epic poem "Kaddish", Corso composed Bomb and Marriage, and Burroughs (with help from Ginsberg and Corso) put together Naked Lunch, from previous writings. During 1962–3, Ginsberg and Orlovsky travelled extensively across India, living half a year at a time in Benaras and Calcutta. Also during this time, he formed friendships with some of the prominent young Bengali poets of the time including Shakti Chattopadhyay and Sunil Gangopadhyay.
[edit]
England and the International Poetry Incarnation
In May, 1965, Allen Ginsberg arrived in London, and offered to read anywhere for free. Shortly after his arrival, he gave a reading at Better Books.
Soon after the bookshop reading, plans were hatched for the international Poetry Incarnation, which was held at the Royal Albert Hall in London on June 11, 1965. The event attracted an audience of 7,000, who heard readings and live and tape performances by a wide variety of figures, including Ginsberg, Adrian Mitchell, Alexander Trocchi, Harry Fainlight, Anselm Hollo, Christopher Logue, George Macbeth, Gregory Corso, Lawrence Ferlinghetti, Michael Horovitz, Simon Vinkenoog, Spike Hawkins and Tom McGrath.
[edit]
Final years
In 1986 Ginsberg was awarded the Golden Wreath by the Struga Poetry Evenings International Festival in Macedonia, as the second American poet since WH Auden. At Struga he met with the other Golden Wreath winners, Bulat Okudzhava and Andrei Voznesensky. Ginsberg won a 1974 National Book Award for The Fall of America (split with Adrienne Rich, Diving Into the Wreck In 1993, the French Minister of Culture awarded him the medal of Ordre des Arts et des Lettres (the Knight of Arts and Letters).
With the exception of a special guest appearance at the NYU Poetry Slam on February 20, 1997, Ginsberg gave what is thought to be his last reading at The Booksmith in San Francisco on December 16, 1996. He died April 5, 1997, surrounded by family and friends in his East Village loft in New York City, succumbing to liver cancer via complications of hepatitis. He was 70 years old.